New Dispensing System Eliminates ALL Manual Dilution!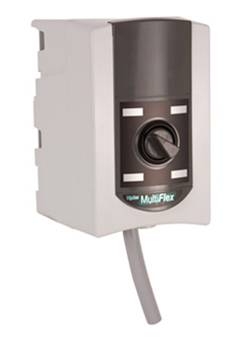 We are proud to introduce a new innovation which helps dilute chemical concentrates into individually selectable solution strengths. Each mixture is best suited for particular tasks.
All you do is choose the setting for a particular task and then begin your work. This flexibility optimizes efficacy of cleaning solutions, helps reduce labor, and virtually eliminates unnecessary waste of chemicals.
One dispenser, many applications
Designed for animal care facilities
Eliminates manual dilution (product misuse)

ONE DISPENSER does it all - ACCURATE dilutions for every common use:
Fill spray bottles with broad-spectrum dilutions
Flip a switch and get a heavy cleaning, Parvocidal strength solution
Fill mop buckets and tank sprayers quickly with the high-flow option
For more information on the Multi-Flex dispensing system, please contact us.
Other Dispensing Options

Care Labs, Inc. offers many solutions in eliminating the manual dilution of Biocide Plus, and improving the productivity of the cleaning process. With our Niftee Foamer line, you simply connect the unit to a water hose and start working! With our Multi-Flex wall unit, you can fill spray bottles and mop buckets!

A Full Line of Cleaning Products

Care Labs, Inc. has become the one-source vendors to many pet resorts and veterinary clinics across the nation by offering a full product line of cleaning chemicals and other everyday items.