ANIMAL FACILITIES Program
We will ensure that your facility is safe from the spread of sickness. We offer a value-added service of checking inventory and supplying you with everyday usage items in addition to our superior cleaning products.
Exceptional Chemicals

Care Labs brand products made by us, right here in Houston, TX, USA!

Inventory Control

If you purchase a full line of cleaning supplies, we can send a representative regularly to check and manage your inventory based on your minimums.

Quality Service & Deliveries

We process almost every order within 1-3 business days!
---
​Care Labs offers a customized line of products specifically for the pet resort and veterinary clinic industry.
​

Care Labs, Inc. has been manufacturing and distributing cleaning chemicals to the veterinary/pet resort industry since 1984. Just like the veterinary and pet resort industry, Care Labs is open to new, innovative technologies; our chemicals use the latest technology in cleaning efficiency and safety.

Care Labs, Inc. has become the one-source vendors to many pet resorts and veterinary clinics across the nation by offering a full product line of cleaning chemicals and other everyday items:

​

Let us help you keep these items in stock with our Inventory Management Program.

​Please check out some of our most commonly purchased products for animal facilities below:
Animal Facilities Catalog
---
Main Cleaners / Disinfectants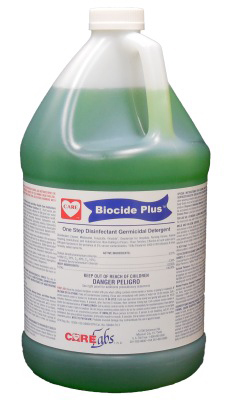 Biocide Plus™ (#LGC1)
A concentrated, multi-purpose, neutral pH, germicidal detergent and deodorant effective in hard waters up to 400 pp, (calculated as CaCo3) in the presence of a moderate amount of soil (5% organic serum) according to the AOAC Use-Dilution test. Disinfects, cleans, and deodorizes in one labor saving step.
Advantages of Biocide Plus
1. CLEANER: Easily removes very tough soil residues and their related odors.
2. DEODORIZER: Long lasting fresh scent; ELIMINATES PET ODORS!
3. MILDEWSTAT (on hard inanimate surfaces): Controls mold and mildew.
4. VIRUCIDE: Kills Influenza A (Canine Influenza)! Kills HIV-1 (AIDS). Kills Hepatitis B Virus (HBV) and Hepatitis C (HCV). Kills Parvovirus, Canine Distemper virus, Feline Picornavirus, and much more!
5. DISINFECTANT: Kills Staph, Salmonella, Psuedomonas and E. Coli.
6. FUNGICIDE (against pathogenic fungi)
7. Efficacy tests demonstrate that Biocide Plus™ is effective in the presence of organic soil. (5% blood serum)
8. SAFE: Non-Dulling to Floors - Floor Finishes (neutral pH); Environmentally preferred and safe to the environment.
9. ECONOMICAL: Clean for pennies per gallon! Biocide Plus is highly concentrated and has a very low usage cost. Ready-to-use and weakly concentrated products are NOT the solution for large cleaning and disinfecting jobs.
Sold in gallons, pails, kegs, and drums.
For more information,
click here
.
---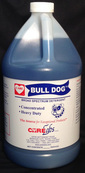 Bull Dog™ (#Lc4) is formulated to remove a broad spectrum of soils. It is a highly concentrated, non flammable and non corrosive product. Bull Dog is effective in all areas where heavy accumulations of dirt, grease, fats or oily soils present a cleaning problem.

Bull Dog is safe for use on any surface that is not harmed by contact with water.

Bull Dog works great in the pet resort environment where kennel surfaces become burdened with grease-like soils.

---
---
---
Odor Control Products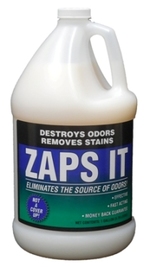 ZAPS IT™ is a powerful odor digester and organic stain remover. ZAPS IT™ dissolves and digests waste residues, stains and malodors caused by urine, feces, vomit, blood, food wastes and other organic matter. It was created utilizing the best bio-technology and modern chemistry to build a product that achieves successful results where other products may disappoint or fail to perform.
Sold in quarts, gallons, and pails.

ZAPS-IT ™ is NOT simply a deodorizer. ZAPS-IT ™ is a blend of friendly bacteria which remain inactive in the bottle. When sprayed on a problem area, the solution penetrates into porous surfaces, grouting, cracks and hard to reach areas. Upon contact with residues of urine, feces, vomit, blood, food soils and other organic wastes enzymes begin breaking down the odor-forming organics into liquids. The bacteria then convert the absorbed organics into carbon dioxide and water which quickly dissipate. While this process is taking place, the pleasant fragrance of ZAPS-IT ™ provides immediate relief from bad odors.
---
Knockout Odor Counteractant (#Ldcxx): A powerful, broad‑spectrum deodorizer which quickly and effective­ly eliminates the most severe odor problems. KNOCKOUT™ is economical and also an excellent environmental choice. One quart does the work of 3 or more aerosols. This saves in product use‑cost, inventory overhead, storage space and it reduces the number of discarded containers which go to landfills. Our dispensing system eliminates the use of flammable or ozone‑depleting propellant gases. In addition, our adjustable spray pattern nozzle is a convenient advantage in many applications.
Available in the following fragrances:

Fresh: #LDC10
Cherry: #LDC2

*SOLD IN GALLONS ONLY NOW*
---
Cleaner Laundry SOLUTIONS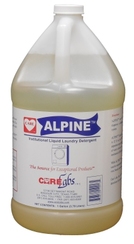 Alpine™ (LL2) Liquid laundry detergent concentrate. A commercial liquid laundry detergent concentrate with optical brighteners for whiter whites and enhanced colors after laundering. ALPINE™ Liquid Laundry Detergent Concentrate is formulated to remove grease, grass stains, dirt and other tough soils while leaving clothes bright and freshly scented. ALPINE™ Liquid Laundry Detergent Concentrate is formulated for use in commercial, industrial and institutional laundries. This high quality detergent performs well in all water temperatures and is safe for all machine washable items.

For regular washers, use 4 ounces per 100 lb load. For High Effeciency (HE) washers, use 1-2 ounces per load.

Sold in gallons, pails, kegs, and drums.
---
Cleaners / Sanitizers - Dish Washing
E-Z WASH™ Detergent Concentrate is a multi purpose, concentrated, liquid dish wash degreaser. E-Z WASH™ does not contain harsh acids or alkaline detergents, and can be diluted up to one ounce per 4 gallons of water (NOT FOR DISHWASHERS)
Sold in gallons and pails.
MAGIC GERMICIDE (#LG16) is designed for use in food processing plants, schools, animal quarters and kennels where disinfection, sanitation and deodorization is of prime importance. It works great as a no-rinse sanitizer for food bowls, after the bowls have been cleaned with E-Z Wash and rinsed.
---
General Sanitary Maintenance Items
Care Labs Inc. offers a variety of items for everyday use for pet resorts and veterinary clinics, such as glass cleaners, heavy-duty liners (trash bags), hand soaps/sanitizers, gloves, and paper items (towels, tissues, etc.)
We recommend
downloading our catalog
to see the most commonly purchased items for your type of facility. And if you have any questions, or would like for us to schedule a visit by phone or in person to create a customized supply list to order from, please
contact us.

CARE Cleaning Solutions. CARE is in our name!
Care Labs, Inc. has developed cleaning solutions that create a safe and clean environment for people and pets. We design our products and dispensing systems to be effective in eliminating the spread of sickness and germs, while also enhancing safety measures in handling any type of chemical.

Since some of us and our pets are allergic and sensitive to even the mildest of substances, like soap, we work with our customers in designing cleaning programs that prevent accidents, and keep harmful bio-organisms out of a facility.
​Team up with Care Labs. We want to help you develop
​a safe and effective cleaning program to protect your clients
from the spread of sickness that is safe, efficient, and effective.