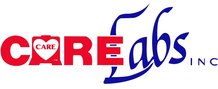 Introduce yourself ​to new Care Labs products.
YOU'RE ALREADY USING THESE TYPES OF PRODUCTS
Why not purchase them from us, get an upgrade in quality, and consolidate your purchasing?
Here are some of our Care Labs brand products:
ZAPS IT

Zaps It Odor Digestor & Stain Remover (works well with carpet, outdoor potty areas for animals, urinal and restroom areas, drain systems, etc.)

ALPINE

Alpine Laundry Detergent is a concentrated, commercial-grade detergent that brilliantly removes dirt, grease, and stubborn soils in both regular and high efficiency (HE) washers.

E-Z WASH

E-Z Wash Manual Dish-wash Detergent is your typical dish-wash detergent IN STERIODS with degreasing capabilities and exceptional, easy cleaning with as little as 1/4 ounce per gallon!
GENIE

Genie Bathroom Cleaner is an exceptional descaler and complete bathroom cleaner. Available in 6 quart packs!

BULL DOG

Bull Dog is a broad-spectrum degreasing product for heavy-duty cleaning. Works great for food processors and kennels.

GLEME GLASS CLEANER

Gleme Glass Cleaner is not a Care Labs product, it's currently on sale - It is an exceptional, foaming glass cleaner!
Ready to order and get your 15% OFF? ​​email your order NOW
OR ORDER ONLINE UsING promo code:
CLINEW317
*New products are products that YOUR account has not purchased before.
*Care Labs brand products are products that CLI manufactures (with the exception of the Gleme Glass Cleaner). If you're not sure about the brand of a product, contact us.