Managing Your Animal Facility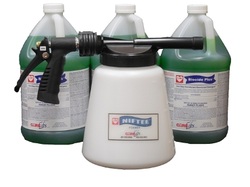 · Are you disinfecting your animal facility in the most efficient and economical way?
· Have you streamlined your sanitation procedures with a one-product solution for cleaning, disinfecting, and deodorizing?
· Are you interested in learning how to significantly improve cleaning results AND reduce these costs in your practice?
What should you look for in a disinfectant?
These are key considerations which directly impact sanitation and your bottom-line:
(a.) Select a multi-purpose product that is designed to clean, disinfect and deodorize.
(b.) Efficacy is paramount – buying cheap disinfectants is a mistake. They are less concentrated, actually cost MORE to use, and often deliver mediocre results. Read the product label. You want to kill resistant strains of bacteria and viruses commonly found in veterinary environments. Gross Soil loads and hard water inactivate germicidal activity - use products that are effective in the presence of soil loads and hard water.
(c.) ODORS turn people off. Your product should eliminate, not mask, bad odors, leaving your facility smelling clean and fresh.
(e.) Highly concentrated products are better – Foamers control dilutions. FOAM expands and CLINGS to provide more efficient wetting of soils and destruction of bacteria while reducing wasteful run-off.
By these standards, Biocide Plus is your one-product solution. Biocide Plus ensures maximum sanitation in your facility, is economical to use, and is environmentally-preferred.
Dispensing Systems (Starter Kit)
Get started now! The Starter Kit includes 3 gallons of Biocide Plus Concentrate, and a NIFTEE Foamer. The foamer automatically dispenses Biocide Plus at the correct dilution rate. All you need is a water hose.
Simple to use! Pour the Biocide Plus Concentrate into the Niftee container (un-diluted), connect the unit to a water hose, and start spraying.
After applying cleaning solution, a brush can be used to agitate any tenacious residues. Allow adequate contact time. Remove the Niftee container using the quick-connect, and spray with nozzle to rinse and remove soiled solutions.
To place an order and/or for more information on Biocide Plus, click here.
---