Defeating Kennel Cough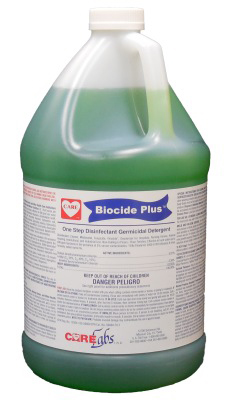 ​Kennel Cough can be a daunting challenge in a facility. We've heard that there are currently high rates of Kennel Cough in other veterinary clinics, animal boarding facilities and pet resorts. Kennel Cough is an airborne illness that spreads through animal to animal contact, infected surfaces and through the air, much like the common cold in humans.
Your first line of
defense
is to ensure each pet brought into your facility have current vaccinations. This is common practice. These include the intra nasal Bordatella Vaccine and Multivalent Injections administered to pets by their veterinary professional before they reach your facility.
Your next line of defense is a good sanitation program.
Care Biocide Plus has been tested against Bordatella Bronchiseptica and has been found to be effective against this common bacterial culprit implicated in Kennel Cough at 1 ounce per gallon of water in a high soil load and high hardness water.
All hard surfaces should be cleaned and disinfected with Biocide Plus. While it is impossible to prevent all contact and air-spread illnesses, daily disinfecting hard-surfaces properly goes a long way in defeating these tough illnesses.
Biocide Plus is the solution to clean, disinfect, and deodorize your facility. If is using another product, such as Hydrogen Peroxide, please read the label instructions, as most products of this type need to be applied at 8 ounces per gallon for bacteria-based claims.
Most of these accelerated hydrogen peroxide products are not efficacious bactercides until applied at 8 ounces per gallon and they are inactivated in high hardness waters.
iocide Plus is a bactericide at just one ounce per gallon, including Bordatella Bronchiseptica and even had to kill antibiotic resistant bacterial like Tetracycline Resistant Escherichia coli, , Community Associated Methicillin Resistant Staphylococcus aureus, Antibiotic resistant Staphylococcus epidermidis, Streptococcus pneumoniae Penicillin Resistant, Vancomycin Resistant Enterococcus faecalis, and Vancomycin Intermediate Resistant Staphylococcus aureus.
t is effective against many animal viruses at just one ounce per gallon (effective against: Avian Infectious Bronchitis virus Beaudette IB42, Avian Influenza A H5N1 virus, Avian Influenza A H3N2 virus, Canine Coronavirus, Canine Distemper virus, Feline Picornavirus, Infectious Bovine Rhinotracheitis virus,) and is effective against even extremely difficult to kill viruses such as Canine Parvovirus , Mice Parvovirus and Porcine Parvovirus at 4 oz. per gallon.
Put Care Labs, Inc. Biocide Plus to work for you today.
Contact us
if we can be of assistance.
Biocide Plus Dilution Rates
One Step Disinfectant Cleaner, Disinfectant, and Deodorizer: One ounce per gallon
Heavy-cleaning: 2 ounces per gallon (rinsing after application recommended)
Parvocidal and other difficult virus claims (see product label): 4 ounces per gallon
---
Contact Us / Place an Order Online
---
More Information on Biocide Plus
​
You have just found a one-step solution to cleaning, disinfecting, and deodorizing your facility in one product –
Care Biocide Plus™, the ideal EPA registered veterinary/pet resort cleaning and disinfecting solution at 1 ounce per gallon.
ADVANTAGES OF CARE BIOCIDE PLUS
1. CLEANER: Easily removes very tough soil residues
2.
DEODORIZER: Eliminates Pet Odors
. Not a masking agent.
3. MILDEWSTAT: Controls mold and mildew.
4. BACTERICIDE / VIRUCIDE: Kills Kennel Cough, Influenza A! Kills HIV-1 (AIDS). Kills Hepatitis B Virus (HBV) and Hepatitis C (HCV). Kills Parvovirus (4 oz/gal), Canine Distemper virus, Feline Picornavirus, and much more!
5. DISINFECTANT: a broad spectrum germicide that is effective against many resistant strains of organisms.
6. FUNGICIDAL against pathogenic fungi
7. EFFECTIVE in the presence of organic soil
8. FLOOR APPROVED: Non-dulling to floors and floor finishes. The pH is neutral.
9. ECONOMICAL – concentrated, very low in-use costs (One gallon of Biocide Plus Concentrate makes 128 gallons of disinfectant/cleaning solution!)
Biocide Plus ensures maximum sanitation in your facility, is economical to use, and
has a neutral pH!