General Information on Bed Bugs


Bed bugs
are
parasitic
insects of the
cimicid
family that feed exclusively on
blood
. The name of the "bed bug" is derived from the preferred habitat of
Cimex lectularius
: warm houses and especially nearby or inside of beds and bedding or other sleep areas. Bed bugs are mainly active at night, but are not exclusively
nocturnal
. They usually feed on their
hosts
without being noticed.
Across America, we have seen a significant rise in the number of bed bug cases in apartments, houses, motels, hotels, hospitals, thrift shops, etc. But today the solution to kill bed bugs just like the pros is available to you.
The Solution is Steri-Fab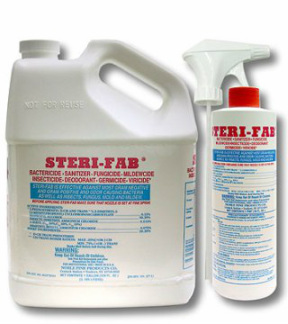 *KILLS BED BUGS FAST AND EASY! Different methods of killing bed bugs include extreme measures like freezing and steaming out rooms. Applying Steri-Fab to your mattress and box spring (and carpet) is an EASY SOLUTION- AND IT WORKS WITHIN SECONDS!
* A multi-purpose cleaner/disinfectant/virucide/insecticide; replaces many products, and lowers inventory supply and cost
* No dilution needed (easy and ready to use)
* Fast drying- around 15-20 minutes
* Non-staining
* Biodegradable
* Can be sprayed on almost anything (except people, animals, food and cooking utensils, and things to that nature)
* Will sanitize your mattresses
* No dyes or perfumes
* Non-residual
* Is used for carpets, vehicle interiors, beds, garbage bins, furniture, and much more!
* Does not contain any harsh solvents
Get Started Now

Our Steri-Fab Bed Bug Eliminator Starter Kit is the most economical and efficient way to start using Steri-Fab in your home. Our Starter Kit comes with one pint with a sprayer, and a gallon refill. This is 144 ounces of product!

More Information on Steri-Fab